The owner of a home-based baking business once described his marketing strategy to me as "my cookies speak for themselves." True, they were delicious cookies. But he completely neglected marketing so his customer base never grew beyond friends and family, and his business failed as a result.
At a recent client meeting I was reminded of that baker. The CEO of a fledgeling tech business said to me, "our differentiating factor will be our superior service quality."
"Wonderful!" I said. "So I'd expect to see significant investment in engineering and quality control. Is that the case?"
"Yes! Here is our R&D and quality program…," and he showed me.
"That looks reasonable," I said, after glancing at it briefly. "Tell me about your marketing."
"Oh, we hardly need any!" the CEO replied. "Our customers will love our service quality so we don't need significant marketing."
I was immediately concerned. "Let me show you something," I said to him. And I drew the following: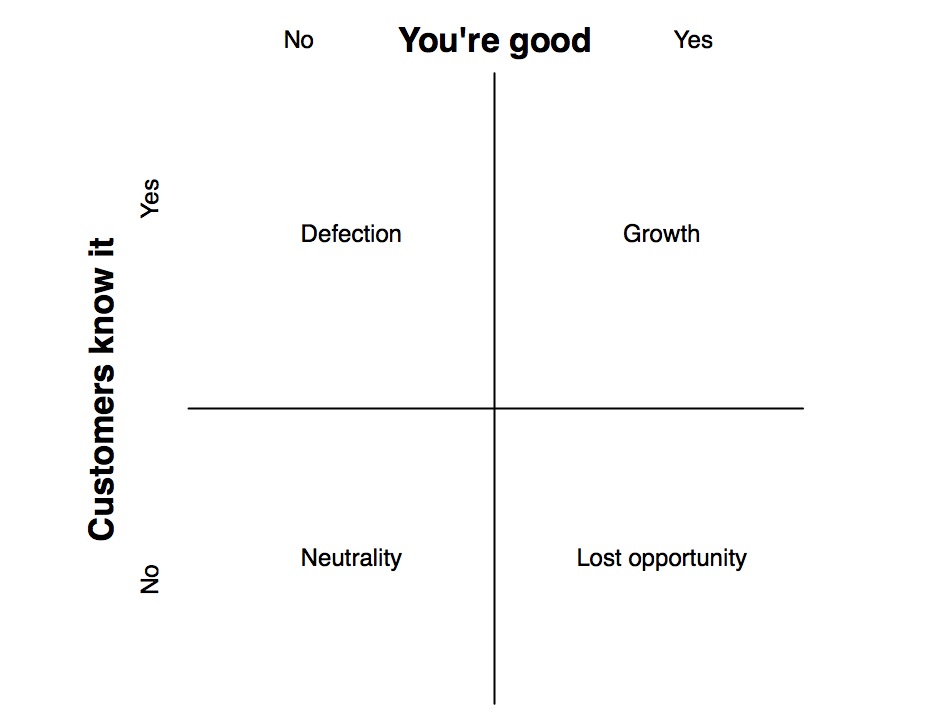 Being good and being known for it are both essential. New businesses begin in the lower left quadrant. At first there is no product so it's not good, and nobody knows about the company. Here customers are neutral about your offering: if they knew more they'd know it wasn't good – and if it was good they still wouldn't know it. In the upper left quadrant you're no good and customers know it, so they leave. In the lower right you're good but nobody knows it, so you lose opportunities to do business. The goal is to be in the upper right quadrant, where you're good and customers know it, so you grow.
A business will traverse the playing field as its quality and reputation change over time. Sometimes quality will suffer or improve, sometimes reputation will have ups or downs. The key factor in achieving success is the ability to nimbly correct course, heading always toward being good and people knowing it. Identify improvements and deliver them to your customers quickly – and make them aware of the improvements. You'll need agile product development, minimizing the time between concept and delivery. You'll need to measure your customers' perception of your quality. You'll need to empower every employee to satisfy the customer as quickly and completely as possible at every level. The net result of enabling quick course correction will be that you get good and you get known for it – and you grow.
Thankfully, this CEO was convinced by my explanations. He agreed that "being known for being good" is as important as "being good" and I helped him craft his marketing, development, and customer support efforts accordingly. The cookies will speak, and he will make sure people hear them.